1) Circle (shortcut key [L])
-Circle is a system that provides friendship promotion and Crew Room for Closers, and the circle level starts from Lv1 and can be grown up to Lv8.
-In order to grow and become a popular circle, all circle members' manners and efforts are required.
Circle creation/request
-Circle creation is possible through the following NPCs, and the following conditions are required.

-You can receive an invitation to join a circle from another closer, or you can search for a circle you want to join and apply.
-Circles are joined by account, and all my characters join the same circle when creating/requesting.
Circle Information/ Management
-You can check information such as circle level, number of people, and announcements.
-You can donate credits to the circle operating expenses or move to a crew room.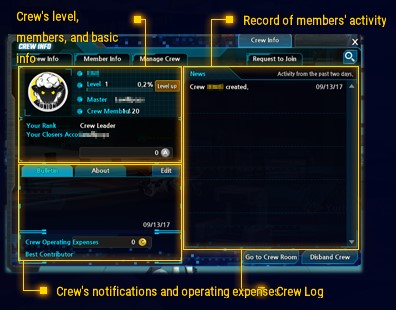 -You can set a crew room and a mascot for the circle members to use together.
-The higher the circle level, the more spacious crew rooms and mascots with various buff effects can be purchased.
-You can purchase using donated circle operating expenses.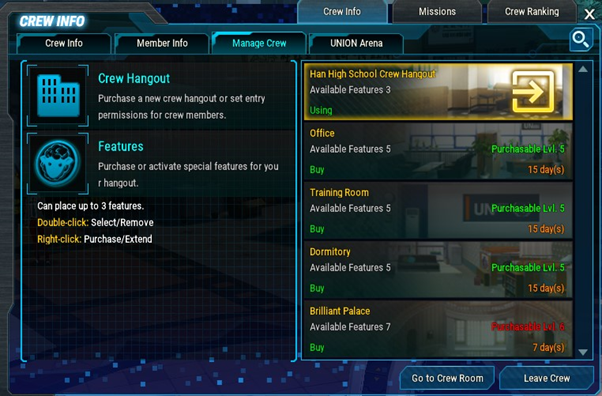 Circle Mission/Ranking
-If you join forces with Circle members and clear the missions, you can receive special rewards according to the completion conditions.
-Circle ranking will be reset at 04:00 on the second Saturday of every month.
(Relevant points do not accumulate between 00:00 AM and 04:00 AM on Saturdays when the Circle Mission/Ranking Reset is in progress.)
Circle Dungeon
-Circle dungeon can be entered from the quick menu on the right after moving to Circle (shortcut key [L])> crew room.
-The Circle Dungeon consists of a total of 7 stages, and the entrance stage is reset to stage 1 at 4 am every Saturday.
-Upon clearing, certain circle activity points are obtained according to the stage, and the circle contribution ranking is affected.
-Occupation degree rewards can be obtained according to the number of individual clears.
-The level of occupation increases once per person cleared, and will be shared among circle members. If the level of occupation required at each level is satisfied, you can enter to the next level of the circle dungeon.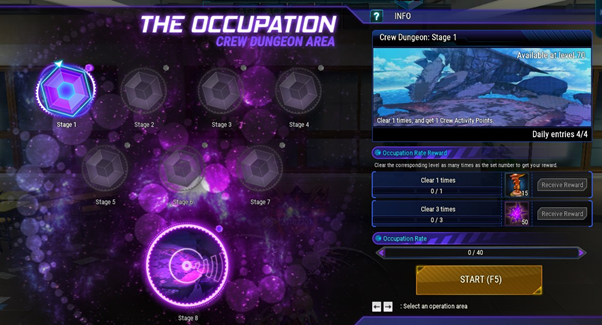 Circle Arena Brawl
-Circle Arena Brawl Mode is a circle version of the Arena Brawl Mode, and all 3 team members must belong to one circle.
-Additional rewards are given for circles, such as circle experience points and circle ranking points.
-You can check the record you competed with other circles in the circle UI.
-You can enter by clicking the [3vs3 Circle Arena Brawl] button after forming a three-person party in the circle room (crew room).
-The Circle Arena Brawl can only be entered as a 3-person party, and the party leader can click the entry button.
-You can only enter the Circle Battle Hot Time.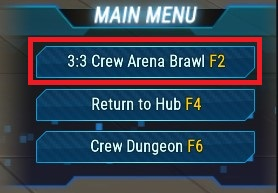 Reputation
-Members with authority within the circle can invest reputation points by region.
-Reputation Points invest 10 Reputation per click.